Feminist, Queer, Anticolonial Propositions for Hacking the Anthropocene: Archive
edited by Jennifer Mae Hamilton, Susan Reid, Pia van Gelder and Astrida Neimanis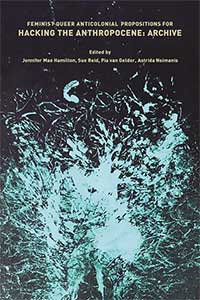 Published: 2021
ISBN: 978-1-78542-067-2
PDF ISBN: 978-1-78542-066-5
If the Anthropocene heralds both a new age of human supremacy and an out-of-control Nature ushering in a premature apocalypse, this living book insists such assumptions must be hacked. Reperforming selections from three live events staged in 2016, 2017 and 2018 in Sydney, Australia, Hacking the Anthropocene offers a series of propositions – argument, augury, poetry, elegy, essay, image, video – that suggest alternative entry points for understanding shifting relationships between humans and nature. Scholars and artists from environmental humanities and related areas of social, political and cultural studies interrogate the assumption of the human "we" as a uniform actor, and offer a timely reminder of the entanglements of race, sexuality, gender, coloniality, class, and species in all of our earthly terraformings. Here, Anthropocene politics are both urgent and playful, and the personal is also planetary.
Feminist, Queer, Anticolonial Propositions for Hacking the Anthropocene is an OHP Labs Seedbook. More at Seedbooks…
Editor Bios
Jennifer Mae Hamilton lives on unceded Anaiwan Country, and is a researcher, teacher and community organiser. Her interdisciplinary research explores weather, affect and housework, and, with Astrida Neimanis, co-founded COMPOSTING Feminisms and Environmental Humanities. She is a lecturer in English at the University of New England.
Astrida Neimanis is Canada Research Chair in Feminist Environmental Humanities at UBC Okanagan campus on unceded Syilx territory in Kelowna, Canada. She is co-coordindator of COMPOSTING Feminisms (with Jennifer Hamilton), a member of the Weathering Collective, and director of The Feel-ed Lab. She also writes about bodies, water, and weather.
Sue Reid is a creative researcher, artist, writer and lawyer, working and living on Gadigal and Yugambeh lands. She is a member of the Sydney Environment Institute; a researcher with The Seed Box; and a PhD candidate in the Department of Gender and Cultural Studies at The University of Sydney—her thesis is titled, 'Imagining Justice with the Ocean.'
Pia van Gelder is a researcher, historian and artist at the School of Art & Design at the Australian National University. Her work investigates historical and contemporary conceptions of energies and how these shape our relationship with technology, bodies and our environment.